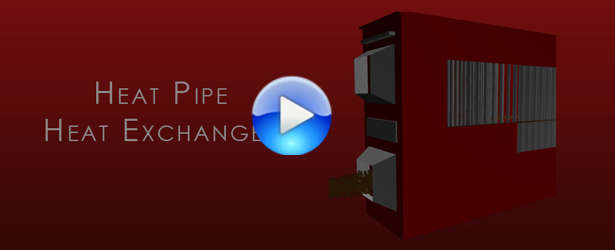 TECHEN provide solution to complex waste heat recovery application to reduce operating cost & carbon emission. TECHEN Heat Pipe offers very efficient & cost effective waste heat recovery systems. The heat pipe of our exchanger is able to operate at exhaust temperature upto 700•C which offers a wide range of recovery possibilities. The recovery mediums can be to gas, water, oil or any viable fluids as required for the applications. Conventional waste heat recovery systems consists complex multi tubular structure of thin metals this causes single tube failure, erosion and corrosion. They are also difficult to clean an suffer from thermal stresses, cracking.
TECHEN heat pipes do not rely on a thin metal surface for a heat transfer offering resistance to erosion. It is also very easy to clean as pipes are having smooth surface hence do not attract particulate metal or dust.
ADVANTAGES OF HEAT PIPE HEAT EXCHANGERS:
Low Pressure Drop

Low Fouling

Increased Reliability

Increased Life Cycle

Perfect Counter-Current Flow

Low Response Time

Isothermal Operation

Reduced Operational Cost

Compact in Size

APPLICATION

Air Heating

Combustion Pre-heat

Space Heating

Drying

Water Heating

Thermic Oil

Applicable Sectors

Automotive

Metals

Ceramics

Glass

Food

Mining

Oil & Gas

Pharmaceuticals

Printing, etc.